LIMITED TIME – 1 WEEK FREE
Do you live with constant age related aches and pains?
Are you tired of Fat Gain and Muscle Loss…?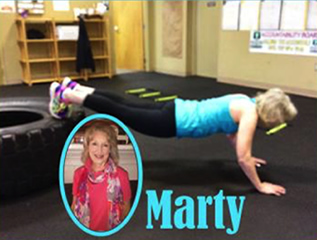 Her Pain is GONE!!
Marty had lived for many years with constant leg pain due to Fibromyalgia, only to learn she could have avoided it all!
REALLY?
That's right….you heard me correctly!  Listen, it's no secret as we get older we tend to slow down. We develop aches and pains. We start noticing changes and in some cases develop medical conditions that affect our quality of life.
GET STARTED TODAY
1 FREE WEEK!
How would you feel if you could say "Goodbye to Pain" forever? Or reverse some of the signs of aging, and be as active in your 50's and beyond, as you where in 20's?
Hi, my name is Rene' Serrate and I am the owner of
U First Fitness here in Johns Creek
. As we grow older what do we have to look forward too? An increase in health care expenses, doctors telling us we need to take more medications. And of course more aches and pains. Well it doesn't have to be that way… as we age an active lifestyle is more important than ever. Regular exercise can help boost energy, maintain your independence, and manage symptoms of illness or pain. Exercise can even reverse the symptoms of aging and is good for your body; it's also good for your mind, your mood, and your memory.
I know this because I myself have rheumatoid Arthritis and can tell you that through proper nutrition and exercise I have been able to virtually erase any symptom of the disease!
OK, if you haven't noticed by now I am very passionate about this subject. But only because I see so many people as they get into their 50's and beyond… give up on taking care of their bodies. And as the aging process continues they simply accept all the complications that arise.
That's why I have specifically designed my Fit Beyond Fifty Program to prove all the so called medical experts dead wrong and reveal how you can drop 8-10 pounds of flab and turn your body's clock back at least 10 years in just 28 days and feel fit young and healthy again!
I personally invite you to come in today and let me show you just how easy it is to begin living an active, Healthy, pain free lifestyle.
Let me be your expert guide, your support, and your encouragement, to help you achieve results you never dreamed possible. Imagine saying goodbye to all your aches and pains, your medications, your limiting beliefs, and imagine living the active, productive life you deserve!
So come join our growing group of 50+ and Fabulous U First Fitness Family Members. Stop making excuses! Listen I am so sure this program will change your life that I want to take all the risk out of it for you, and make it so affordable you can't say NO! I will even back it up with a 100% total satisfaction, money back Guarantee!
How can I get a hold of you if I have a question? You can call us at 404-445-8144 or email us at info@ufirstfitness.com
If I am out of shape can I still do the program? Yes, we have modifications for every exercise and we can scale the workouts to your fitness level.
What if I'm not happy with my results after the program ends? Not a problem, because we are so sure that wont happen that we offer a "no questions asked" money back guarantee!